In Memory
Greg Huff VIEW PROFILE
Two parents, three siblings, two wives, one son, two stepchildren, five grandchildren, and friends too numerous to count. Gregory John Huff touched each and every one of them in special and substantial ways.
A native son of New Jersey, Greg was born on October 11, 1947, in Hackensack, the youngest child of George and Agnes Huff, and died on November 30, 2020, surrounded by family in Effingham, Illinois. But the more important days in his life were all those ones in between.
As a school-age kid, Greg was an excellent athlete, a state-recognized wrestler, a football player, baseball player, and runner on the track team. He was inducted into the Pascack Valley Athletic Hall of Fame in 1996. He had a lifetime love of animals, most especially dogs and horses. During the latter stages of his 15-year battle with Parkinson's disease, he relied heavily on his service dog, Star, who still isn't quite sure where her friend has gone.
Growing up, Greg enthusiastically worked many hours at the family business – Huff's Ice Cream Bar. In addition to scooping copious cones of custard, he enjoyed making Huff Super Heavy's . . . a tradition that still lives on today. As a friend recently noted, "Forget using a straw. A spoon was the only way to eat a Huff Super Heavy!" (Those ice cream roots ran deep. All Greg wanted to eat for the last couple of weeks was chocolate ice cream. And that's what he got.)
Greg maintained close friendships with his high school buddies until the day he died, always enjoying their annual golf outings, retelling and undoubtedly embellishing stories of their youth. Never at a loss for a tale of his own, Greg had a story to fit any subject. And yes, he really did cut the ribbon for the New Jersey Turnpike when he was 10 years old!
Some of those same friends went together and bought some land in Maine in the early 1970s. Instead of your basic cabin or "camp" as the residents call them, this group built a geodesic dome. Some may have deemed it the Hippie Dome, but whatever it was, it provided a great place to forge friendships for many years.
After heading west to attend the University of Arizona in Tucson, Greg returned to the east coast and started Greg Huff Construction. He designed and built many beautiful homes and businesses with the somewhat oxymoronic company motto, "Cheaper, Faster, Better." There was never anything substandard associated with a Huff Construction job.
Greg was married to Linda Lawson from 1972 to 1984. After an amicable parting of the ways, he met Carolyn Samuel who became Carolyn Samuel Huff on May 11, 1985. She brought with her two children, David and Kristie, who found in Greg a caring, loving, and dedicated stepfather. Son Sam would join the circle in 1986.
In a family full of entertainers and entrepreneurs, Greg was the consummate cheerleader and supporter. On the night he and Carrie were married, she was performing in a dance concert. Greg dutifully attended and continued to be an enthusiastic and loyal audience member for the rest of his life. He helped David start his first DJ business by carrying heavy music equipment to and from gigs into the late hours of the night. On the evening immediately following knee surgery, he proudly (and painfully) watched Kristie perform in a school musical. And he spent many happy hours watching and listening to Sam sing and play in a variety of bands, as well as cheering him on from the sidelines of numerous soccer fields. He was always content and proud to be in the audience, never once complaining about endless rehearsals and late nights.
Family always came first. And beloved vacations with his immediate family and his extended one included favorite destinations like Old Mission, Michigan; Saluda, North Carolina; and Guilford, Maine.
Always showcasing a calm demeanor, Greg enjoyed wherever he was. As long as Carrie was there, from Maine to North Carolina to Illinois, he was happy. Every year for Christmas, he wrote a letter to her. (And she still has everyone one of them in her Christmas stocking.) In every note, he expressed his love not only for her but for their "cute little family" as well. In 2007, he wrote, "We always talk about how lucky we are in our lives. Well, let me say it again: 'How lucky we are together.' Love, Your favorite husband."
In addition to Carrie, Greg is survived by David Samuel, Kristie (Niall) Campbell, Sam (Tracy Vega), grandchildren Oliver, Eden, Uma, and Annabelle Samuel, and Camden Campbell. At age three, Oliver began calling Greg "GG," which stood for Grandpa Greg. He also coined the phrase, "Love ya, Jeej," still in use to the day he died. His siblings George (Nancy) Huff, Kathy (Peter) Bowen, Eileen (Ed) Ballanco, and many nieces and nephews also survive him.
The Huff/Samuel families wish to convey their heartfelt appreciation to the staff at Willowbrook Memory Support Residences for their loving care of Greg. They also wish to thank their Care Manager, Jackie Widges for her steadfast care and support of Greg and his family. You are our heroes!
In lieu of flowers, the family requests that you make a donation to the Greg Huff Memorial Scholarship at Buckeye Friends School. Donations may be made at buckeyefs.com or mail check to Southeastern Illinois Community Foundation, For Buckeye Friends School, 2701 S Banker St, Effingham, IL 62401
Due to Covid-19 restrictions and friends and family that reside coast to coast, a virtual memorial service will be held on Sunday, December 6, at 4pm CT. A link will be sent before Sunday
https://www.johnsonandsonsfh.com/obituary/gregory-huff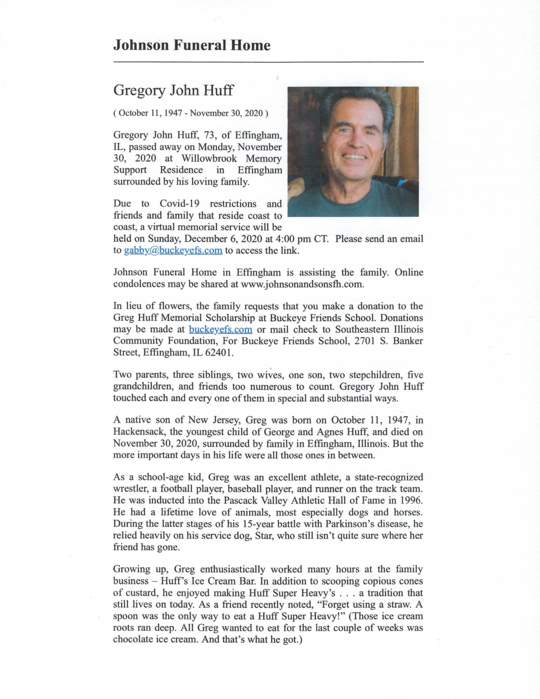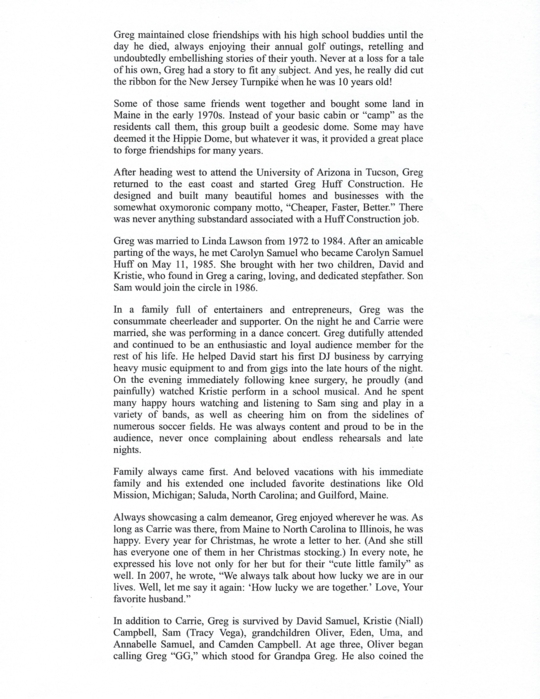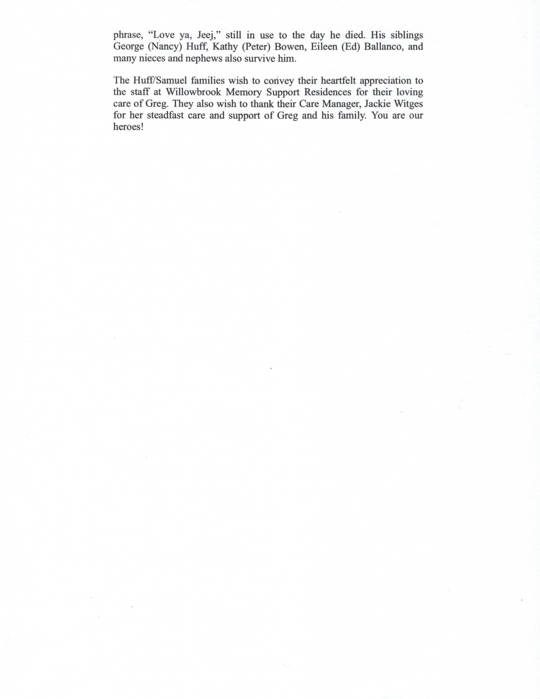 FaceBook Screenshot 11/30/2020: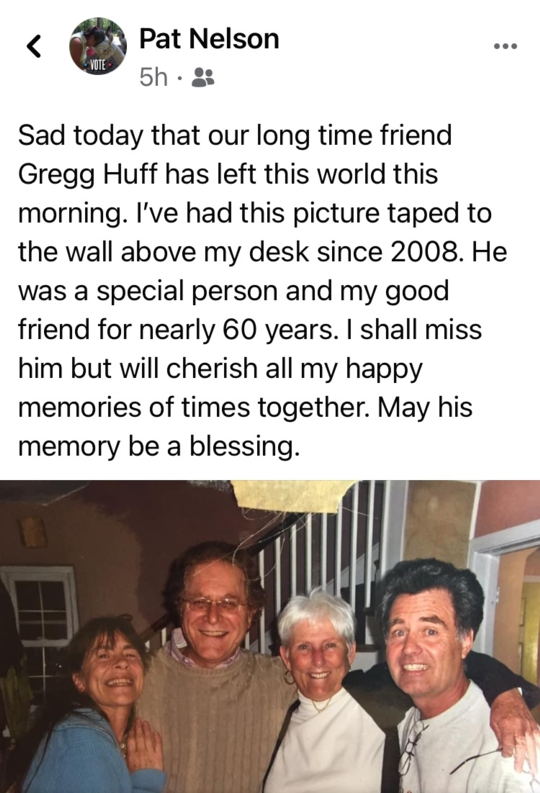 Click here to see Greg's last Profile entry.